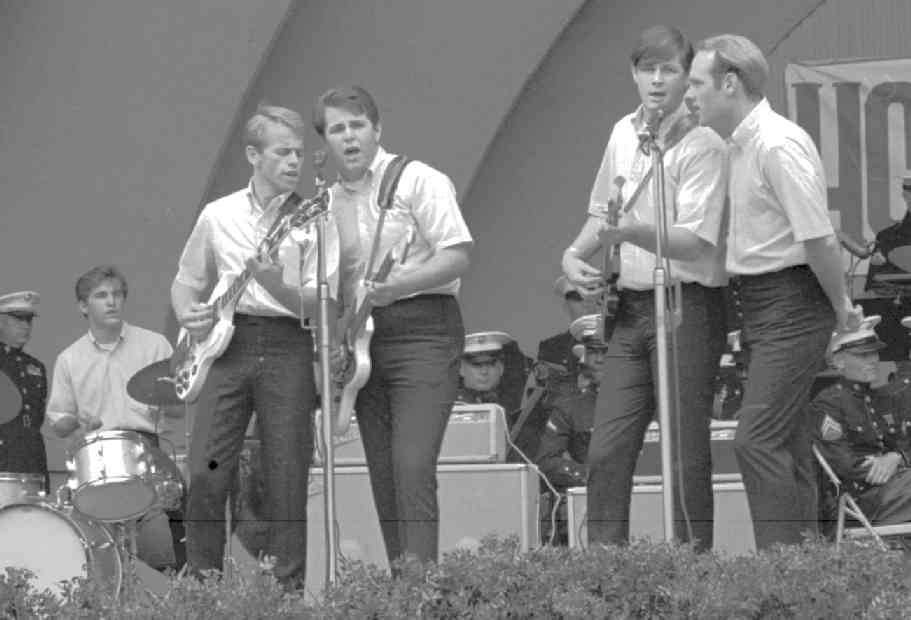 I have recently compiled a box set of the Beach Boys' music from 1962 to 1980. Alongside, I've also written liner notes. While I can't include the music here for fear of a lawsuit from Brother Records, it's all available if you'd like to read along.
Disc 1: 1962-1965
1. "Surfin' Safari" (Brian Wilson/Mike Love)
2. "Lonely Sea" (Brian Wilson/Gary Usher)
3. "Surfer Girl" (Brian Wilson)
4. "Back Home" (Brian Wilson/Bob Norberg)
5. "In My Room" (Brian Wilson/Gary Usher)
6. "Fun, Fun, Fun" (Brian Wilson/Mike Love)
7. "Don't Worry Baby" (Brian Wilson/Roger Christian)
8. "I Get Around" (Brian Wilson/Mike Love)
9. "Little Honda" (Brian Wilson/Mike Love)
10. "Surfin' U.S.A. (Live)" (Brian Wilson/Chuck Berry)
11. "When I Grow Up (To Be a Man)" (Brian Wilson/Mike Love)
12. "Dance, Dance, Dance" (Brian Wilson/Mike Love/Carl Wilson)
13. "Kiss Me, Baby" (Brian Wilson/Mike Love)
14. "Please Let Me Wonder" (Brian Wilson/Mike Love)
15. "Do You Wanna Dance?" (Bobby Freeman)
16. "In the Back of My Mind" (Brian Wilson/Mike Love)
17. "Help Me, Rhonda" (Brian Wilson/Mike Love)
18. "Let Him Run Wild" (Brian Wilson/Mike Love)
19. "California Girls" (Brian Wilson/Mike Love)
20. "The Girl from New York City" (Brian Wilson/Mike Love)
21. "I'm Bugged at My Ol' Man" (Brian Wilson)
22. "And Your Dream Comes True" (Brian Wilson/Mike Love)
The first thing to understand about The Beach Boys is that it is a Southern Californian family enterprise. The core of the original band consists of three brothers (Brian Wilson on bass, Dennis Wilson on drums and Carl Wilson on guitar), a cousin (Mike Love, lead vocalist on many of their early hits and the band's frontman) and a high school buddy (Al Jardine on guitar). All of them sing. Murry Wilson, father to Brian, Dennis and Carl, was the band's manager in their early years. And there have always been positions on the payroll for family, and a clannish mistrust of outsiders.
The next thing to understand, or perhaps accept, is that in the beginning, the Beach Boys were a surfing band. Nothing that the legions of recently converted, indie-loving Brian Wilson fans do or say can erase this fact. The family was not Los Angeles slick; rather they emerged from a suburb near LAX called Hawthorne. And with the exception of Dennis, middle child and the band's resident hedonist (and the only one to surf), these were some pretty square dudes. Only Brian's sophisticated musical ear (his deafness in his other one confined him to mono; as a result, where possible the mono mixes have been included) gave them their advantage in the pop market at first.
Well that, and Dennis' hopeful suggestion shortly before their first recording session that Brian and Mike should write some surfing songs. Whether in shrewd calculation or simply in a 'try-anything' spirit, they did so and "Surfin'" (music by Brian, lyrics by Mike) became a local hit on the small Candix label. That song and their growing popularity as a live band led Capitol to sign them; around this time Al left the band for a year to go to dental school, replaced by the Wilsons' neighbor David Marks. "Surfin' Safari," (1) their first Capitol single and soon to be title track on their first album, was another Brian and Mike co-write, driven by Dennis' insistent rock and roll beat and Mike's nasal vocals. "Lonely Sea," (2) was recorded at the same session but held back until their second album, 1963's Surfin' U.S.A. It was the first fruit of the brief songwriting collaboration between Brian and his friend Gary Usher (as in most of his collaborations, Brian wrote the music) and the earliest manifestation of Brian's potential for unearthly, melancholy beauty. The lead vocal is his.
Surfin' U.S.A. was their biggest success yet, and as the Beach Boys were one of the only teen groups with an in-house songwriter, Capitol agreed to let Brian produce the follow- up Surfer Girl. At this time Al Jardine returned to the fold and David Marks was unceremoniously ejected. The album's centerpiece and first single was "Surfer Girl" (3), Brian's first composition (written in 1961 when he was 19). It is surely the most beautiful track the Beach Boys had yet recorded, featuring Brian on lead but the entire band singing support. Recorded shortly after was "Back Home," (4) a song Brian wrote with his roommate Bob Norberg, and the first of his productions to utilize session musicians (the arrangement featured horns and was generally beyond the ability of the Beach Boys). An experiment in the wall of sound style of Phil Spector, the song was not released, perhaps because it wouldn't fit in with the tracks that featured the Beach Boys playing. The last track featured from Surfer Girl is "In My Room," (5) another Brian and Gary collaboration. "In My Room" was their most poignant song yet, and the arrangement did not disappoint: the verses gradually stack the voices, beginning with the brother blend in the order of Brian, Carl and Dennis. Mike and Al enter for the choruses and Mike sings lead on the bridge.
1963 had been a banner year for the Beach Boys. Their success and fame had grown exponentially, and they were teen idols. Dennis, in particular, became a sex symbol. By the year's end, the public would see the release of their third album Little Deuce Coupe (a concept album devoted entirely to car songs) and a Christmas single. But Brian had a restless competitive spirit, spurred on by his father, still the band's manager and for whom failure was not an option. And so on January 1 of 1964, he was again in the studio, again with the group of crack-shot L.A. session musicians lovingly dubbed the Wrecking Crew, having decided the Beach Boys as musicians were not up to recreating the sounds in his head. And the song they began on that day, "Fun, Fun, Fun" (6) surely vindicates his decision, being the best Brian and Mike collaboration yet and the band's most popular single to that date. Mike sings lead on the verses, with Brian on falsetto in the choruses and the song's fade, crystallizing the juxtaposition that would drive so many of their classic songs. "Don't Worry Baby," (7) a collaboration between Brian and hot rod poet Roger Christian, was recorded a week later under the same circumstances. Musically, "Don't Worry Baby" was heavily inspired by the Ronettes' recent hit "Be My Baby," produced by Brian's idol Phil Spector. And the track was perhaps the band's loveliest yet, featuring Brian on falsetto lead vocals. The recording sessions for the attendant album Shut Down Vol. 2 were interrupted by the band's first tour of Australia and New Zealand. By the time they returned to the U.S.A., the Beatles had arrived, establishing chart domination and quickly becoming Capitol's new favorite artists. This competition radically focused Brian, and in the ensuing weeks he fired his father as the band's manager, correctly believing they would be better off without his help.
"I Get Around," (8) recorded in April 1964, was the band's first post-British Invasion recording. The effects of the competition are not hard to detect. Again written by Brian and Mike, the song motors along on the strength of Brian's inventive arrangement, expertly played by the Wrecking Crew. Stylish handclaps signal the new post-Beatles consciousness. But that is just a bed for Brian's most harmonically ambitious vocal arrangement yet (again featuring Mike on the verses and Brian on the choruses); all that, and an injection of "cool" that had not yet existed in their music. Brian's hard work was rewarded the following month when "I Get Around" became the first Beach Boys single to top the charts. "Little Honda," (9) continues in that vein of cool, again featuring Mike's lyrics and singing. Notice how the droning, hummed vocal backgrounds in the verses prefigure Brian's experiments in psychedelic music that would begin the next year. Capitol hastily released the All Summer Long album in July and the band set to recording a fairly undistinguished Christmas album. This was followed by the lengthy, raucous Summer Safari tour, which saw the Beach Boys rising to the Beatles challenge, playing all the songs fast with a manic energy, their harmonies always perfect. Two shows were recorded in Sacramento for the Beach Boys Concert LP. The version of "Surfin' U.S.A." (10) included here was not on the album for unknown reasons. It certainly shows the band's evolution. The song is no longer merely a Chuck Berry homage with surf lyrics; its new harmony arrangement elevates it to a place of wild abandon. You can hear Brian, de facto musical leader, screaming encouragement to the band.
Four days later, in the midst of touring the West Coast, the band laid down a new Brian and Mike song called "When I Grow Up (To Be a Man)." (11)This time Brian opted to use the Beach Boys for the backing track, probably impressed with their development as musicians. The song is a further development of the jazzy harmonic ideas of "I Get Around," with the added innovation of wistful, bittersweet lyrics uncommon for a rock and roll single in 1964. And Brian plays harpsichord on the track, beginning his infatuation with orchestral instruments that would swell over the next two years before being suddenly brought down to Earth. The baroque instrumentation (Al plays bass in lieu of Brian) notwithstanding, its familiar Mike and Brian lead vocal sound says Beach Boys all the way. That track did well in the charts and the tour immediately continued, with intermittent recording dates sprinkled here and there. In October they recorded one of the greatest Brian and Mike songs, "Dance, Dance, Dance." (12) This time the Beach Boys played and were augmented by members of the Wrecking Crew on additional instrumentation. The session guitarist was Glen Campbell, a hotshot player and dramatic singer that Brian was producing at the time. He would pop up again shortly. "Dance, Dance, Dance" is the track where the Beach Boys, playing as a rock and roll band, really match the Beatles in sheer joyful abandon. Released hastily as a single, it performed well but was still generally kept out of the top five in America by the continued onslaught of British bands. This frustrated Brian to no end.
The tour continued all the way to a great reception in Europe and back through yet more American dates. In December, Brian began recording a new song he had written with Mike called "Kiss Me Baby." (13) Instrumentally performed by the Wrecking Crew, it taps a new vein in Brian's consciousness, exposing a deeply vulnerable soul through dynamic and inventive orchestration. The lead vocals are again performed by Brian and Mike, continuing to mine the successful Beach Boys formula, even if the music is breaking through to a new place. Seven days after the backing track session, Brian suffered an extreme panic attack on an airplane en route with the band to Houston, Texas for a gig. He had always had stage fright, and the loud screaming of the fans hurt his good ear. But he was also exhausted by the pressure to keep pumping out recordings in an increasingly sophisticated and competitive pop era, all the while touring most nights of the year. He calmed down enough to play the gig that night, but the band sent him home the next day to cool out. Session guitarist Glen Campbell was hastily recruited to fill Brian's role in their remaining dates for the year. Brian stayed at home, resting and considering his options. The band returned to Los Angeles in January to work on the next album. It was at the vocal session for "Please Let Me Wonder," (14) another beautiful and evocative ballad again featuring the Wrecking Crew's instruments and Brian and Mike's vocals, that Brian informed the band of his decision: they would tour with a replacement bassist and falsetto singer, while he stayed at home writing their songs and producing their records. The band took the decision very badly, with only Carl remaining stoic throughout. But Brian soothed them by promising a beautiful future and increased success for the band if he were allowed to stay at home and function as their overarching auteur. They allowed him his decision; they needed his productivity and he had shown himself too sensitive to the pressures of the road anyway.
Sessions for The Beach Boys Today! Album continued unabated. Brian arranged an awesome orchestral track for his cover of the Bobby Freeman's 50s soul hit "Do You Wanna Dance?" (15). Then he gave Dennis his first lead vocal on a Beach Boys single, an occasion he rose to with aplomb. Dennis had the most rustic and ragged vocal chords in the band, but he sang with soul second only to Brian. The arrangement was Brian's biggest yet, expanding Phil Spector's orchestral Wall of Sound template with Brian's innovative arrangements for the Beach Boys' dazzling Wall of Vocals. It charted well although it didn't break the top ten, but this didn't deter the band's momentum. "In the Back of My Mind" (16) is the other song Dennis sings on the album, joined by Brian and Carl for the bridge. It's also Brian's farthest foray into musical impressionism yet, a hazily indecisive meditation with excellent lyrics from Mike that would stand as the perfect closer for The Beach Boys Today! If they hadn't decided to shatter its effect with a completely mundane interview track at the end that can only have been a self-sabotaging joke. Nonetheless, it was by far the most sophisticated album the Beach Boys had released to that point, marking a major turning point in Brian's musical progression and role in the band. Even its track sequence was innovative, with all the rockers on side one and side two an impressionistic suite of romantic ballads.
Following the sessions, Brian apparently felt rested enough to replace Glen Campbell for a week. Glen returned to the fold but not for long; he had ambitions as a solo artist. Back in Los Angeles, Brian led his session regulars through the recording of the collaboration with Mike he had selected as their next single, "Help Me, Rhonda." (17) This track had actually been recorded for The Beach Boys Today! but was held back by a lackluster arrangement. Brian though apparently sensed its commercial potential, and re-arranged it, raising the tempo and adding exotic touches in ukulele and percussion. The band returned for the vocal session. Al Jardine had the lead; it was only his second lead but he tackled it with great verve. The vocal session was interrupted by a drunken intrusion from Murry Wilson, who openly belittled and berated Brian for hours until the generally non-confrontational Brian lost his temper and threw him out of the studio. Theirs was an extremely complicated relationship and Murry was definitely abusive as a father. But that blow-up seems to have invigorated the band, and "Help Me, Rhonda" became their second U.S. number one single.
Meanwhile, Brian was most assuredly taking his place in the burgeoning Los Angeles counter-culture, convinced by his new hip friends to begin experimenting with LSD. The drug did a number on him, and the visions of heaven and hell he experienced on his first trip would linger in his creativity for years to come. That, alongside his steady marijuana intake, informed the hazy, impressionistic tracks he began working on, with the Beach Boys again on tour. The first was called "Let Him Run Wild," (18) a searing and emotional track he had written in defense of his mother against Murry's philandering. Mike Love contributed additional lyrics. Although "Let Him Run Wild" has long been considered one of Brian's greatest songs and productions, he himself hates it; his vocals are very high in his range, and apparently he was ashamed by their femininity. The raw, dramatic emotional content of the song directly predicts the following year's Pet Sounds, but from there Brian seems to have hedged his bets a little, recording songs he had written with Mike with gorgeous baroque arrangements awkwardly married to twee lyrics about amusement parks and Salt Lake City. In April though, he began his piece-de-resistance, "California Girls." (19) Supposedly written during that first LSD trip, the song begins with a dazzlingly grand orchestral intro, before giving way into Brian's most massive production yet. With lyrics and lead vocals from Mike, and Brian leading the choruses with his falsetto, the track is notable for the sweeping majesty of its track (performed by 14 musicians), and the ethereal beauty of its vocal arrangement. The song is also the first recorded appearance of Bruce Johnston, a friend of the band who had been drafted as Brian's permanent road replacement. Although it was not initially assumed he would appear on Beach Boys records, Brian apparently liked the tone of his voice and invited him to take the lead on the counterpoint vocals in the chorus. "California Girls" was released in July (with "Let Him Run Wild" as B-side) and rocketed up the charts to number 3. It is still one of the Beach Boys' most fondly remembered songs.
From there it was a crash course through completing the Summer Days (And Summer Nights!!) album, seen by many as a regressive lyrical step but another stunning advancement in Brian's musical development. The last three songs on the disc were all cut in May 1965. "The Girl from New York City" (20) is another Brian and Mike co-write with a raspy lead from Mike, in the vein of the Beatles' recent R&B influenced sound. The backing track is played by the Beach Boys with a few members of the Wrecking Crew, and the falsetto is in this case performed by Bruce Johnston (Brian is on top of the hollered vocal stack in the chorus). "I'm Bugged at My Ol' Man" (21) is a fairly uncomfortable exercise in emotional sharing doubling as dark humor, as Brian alone with his wife Marilyn and his two brothers sings a mock-melodramatic rant against Murry's controlling and abusive ways in his best Elvis croon. On the album's back cover, "I'm Bugged at My Ol' Man" is the only song without a lead vocal credit, instead reading "Too embarrassed." Finally, "And Your Dream Comes True" (22) is a brief, poignant acapella arrangement composed and produced by Brian with some help from Bruce in the control room. Bidding farewell to summer, and closing the door on the fun in the sun chapter of the Beach Boys' career, it also looks ahead to the awesome spiritual loveliness that would characterize all of Brian's work by late 1966.
-Oliver